Thanks CCP Quant for releasing the stats AFTER the
latest Prosper episode
.
Monthly Economic Report - August 2016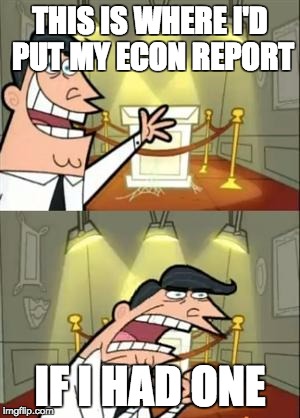 Though there isn't anything particularly
bad
in this month's numbers, it didn't really live up to my expectations outlined in
last month's summary
.
Tell Me What You See
It's very "second verse, same as the first" looking from July into August. A lot of the bulk stats look very good. Net trade and PVP rates are staying steady and moving as-expected ahead of the YC118.8 release with its rebalance to mining.
Looking back at our favorite pairing, PLEX and ISK velocity, things looks good. We're finally back over the 1B mark, and trending positive.
PLEX is going to be extremely interesting in the coming weeks thanks to Alpha Clones. Though I believe most of the positive and negative trends wash eachother out, I think there are some big changes in store for other trends outside of PLEX. Specifically if more people are logged in and interacting with the game, even with the handicapped-clones, those could put some measurable pressure on mineral consumption and ISK velocities.

Also, most of the discussions I've seen around Alpha Clones center around "free ISK" and though the effects won't be zero (esp for skill trading... free baseclones), I think the pain of exploiting Alphas will tamp down most of the worst worries. Lastly, we wouldn't be getting the F2P program if Team Security weren't up to sniffing out illicit activity, so I am not overly worried about massive botting rings.


Troubling Headwinds
What has me worried in the short term isn't so much the levels. Absolute readings from all indicators are looking good. But looking at the month-to-month rates have me worried. Looking at the wallet statistics, I'm happy with the total ISK, I'm happy with the sinks/faucets, but I'm not happy about the rate of wallet growth or ISK velocity.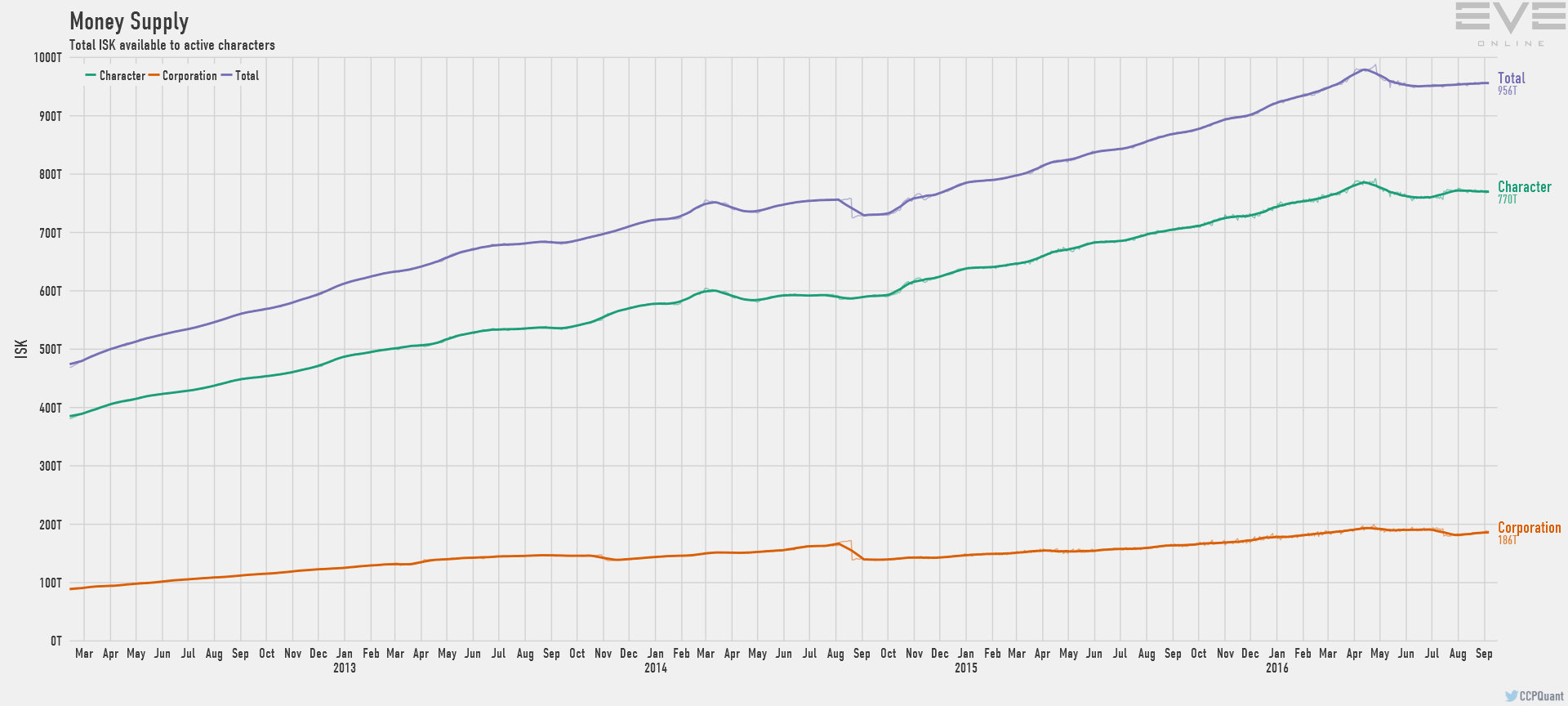 I expected after WWB+Citadel that players would be able to recoup their lost wealth and start making roads toward regaining normal. And though the sink/faucet chart says activity is returning to normal, the wallet status graph says total ISK out there to work with is diminished. The trend isn't reason to raise alarm, but I will be watching these stats going into the winter.


Drawing Conclusions
I'm a big fan of
Marketplace
(and if I didn't have to work for a living, I'd produce those kinds of stories for EVE). And if you follow their Friday Roundup, a recent theme with the IRL economic numbers are "it's good... but...". I have a similar feeling about this month's report; I expected trends to start pointing upward into the fall, but we're just seeing flatness. We also aren't seeing any fallout +/- from No Man's Sky, which is just a little weird given the bad press post-launch, but high engagement in a scifi property tangentially linked to EVE; I was anticipating some conversion to come back.
The devs at CCP seem to be happy with the trends, but I remain slightly worried. Things will most likely be totally fine, but there are some troubling headwinds in the latest numbers to just be wary of. I fully expect to have more interesting news to report in the September and October numbers.