Editor's Note: blog was published about 30mins before CCP released updated notes about alpha clones. The ban on Alpha-multiboxing means we revise back our expectations on low-end minerals in HS
September's economic numbers were released this week. And though we got a sneak-peek in our o7 Show Market Brief, having the real numbers released to the public gives us a chance to really review the state of the EVE economy.
I'm going to break from formula this month. Where previously I've tried to explain the technicals, I would rather take this chance as a primer for the fall/winter seasons with all the juicy features on the horizon.
What's Not In The Report
Sadly, the economic numbers were cut just before some of the biggest news was released. Though we can see some ripples thanks to
Alpha Clones
, and some effects in the mineral markets thanks to a
barge rebalance
, we won't see the waves from the
Mining Booster devblog
.
Before we pick apart the month-gone-by, I think it's incredibly important to send out some forecasts about minerals:
High-end minerals are going to crash thanks to the Rorqual changes

6 exhumer-grade mining drones and a invulnerability button will significantly increase nullsec yields

Low-end minerals are going down thanks to Alpha Clones

Alpha clones in HS will be very close to "mined minerals are free". Though total yields should not increase dramatically, costs/risks will fall.
Now, "crash" is a pretty strong term to bandy about, but there will be some very significant moves in all the materials thanks to November's changes. So much so, that I'd be hard pressed to hold stockpiles in any minerals personally. Isotopes are a less risky prospect, but the Engineering Arrays could cut POS fuel consumption more than fleet-booster charges will raise it.
Also, if you are the tinfoil-chewing type... Those megacyte volumes pre-devblog sure look suspicious
What Do You See
I said in
last month's report
that there were some troubling headwinds. Values were okay, but month-to-month rates were very weak even for the end of summer. With September's report out, things are looking much better.
Both Net Trade and ISK velocity plots are looking healthy once again. Ship trade has crossed back over the 1T mark, and minerals have taken a sharp bump thanks to the barge rebalance. Also, with PLEX about to cross 1.2B, it's interesting to see the net trade values aren't quite matching the slope, pointing to a speculation bubble.
The specifics of ISK velocity are still a little lower than I'd like to see, but with trends pointing positive (and the 30d skew on the calculation) I'm reasonably happy to see EVE warming up for the winter.
Lastly, looking over the PVP numbers, I think it's interesting to see a bump in value destroyed without the kill counts really moving up. We have seen in past events (Opportunities, Bloody Harvest, The Hunt, etc) where pilots were trafficked in to more combat, and the Purity of the Throne event does not seem to be driving the same activity levels.
Other Signals
The sink/faucet graphs are starting to look better too. Seeing Active ISK Delta (ISK leaving due to inactive accounts) shrink is heartening. That's going to be one hell of a statistic to watch in the November report once Alphas release.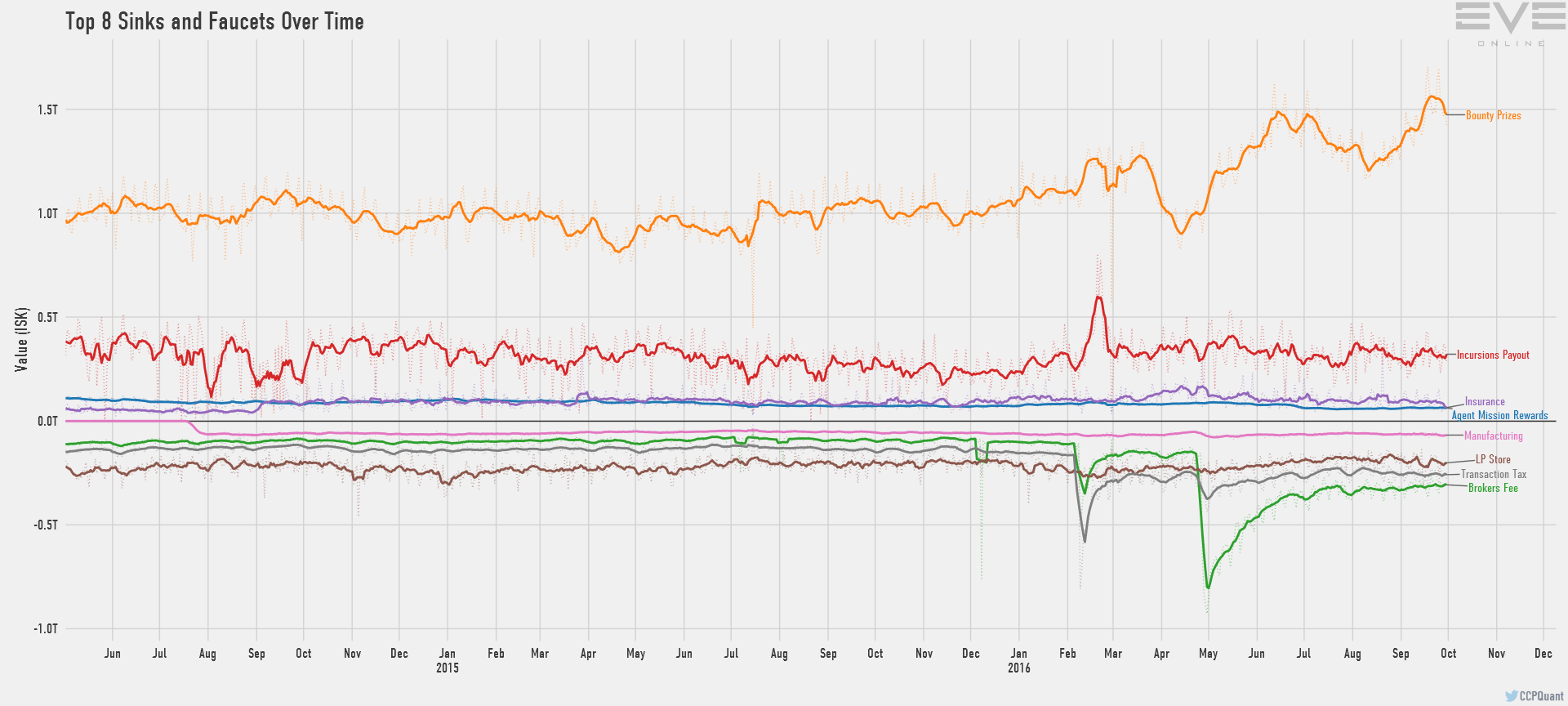 And I'm loving this Top5 plot of the sinks/faucets. Interesting to see things rise and fall with the higher resolution. The bounty levels post WWB are extremely interesting (would like to see a mission vs rat breakdown). With levels climbing that fast, I wouldn't be surprised to hear of nerfs/rebalances some time in the next 6mo.
Last but not least, the player vs NPC breakdowns of fees now with citadels is a welcome addition, and we will be looking in to tracking this as a trend in the future.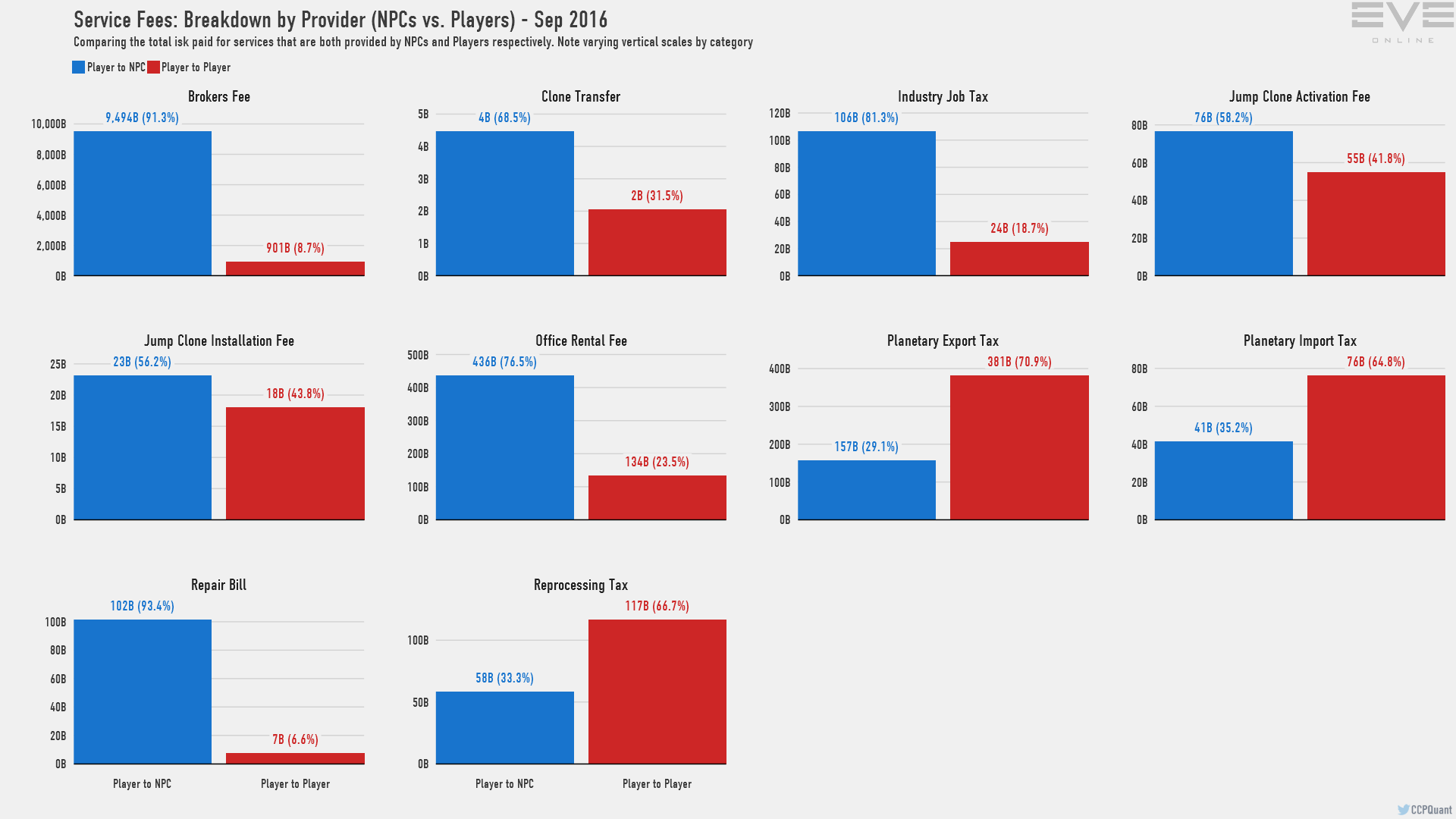 Conclusions
Though my August outlook was cautiously pessimistic, September has the game back on a good track. October/November's numbers are going to be the real blockbusters to watch and I hope everyone has put in their EVE Vegas bets. There's still a lot of upset that can play out between now and November, when Alphas launch. Nothing was particularly surprising in September's numbers, but the new charts are a welcome addition.